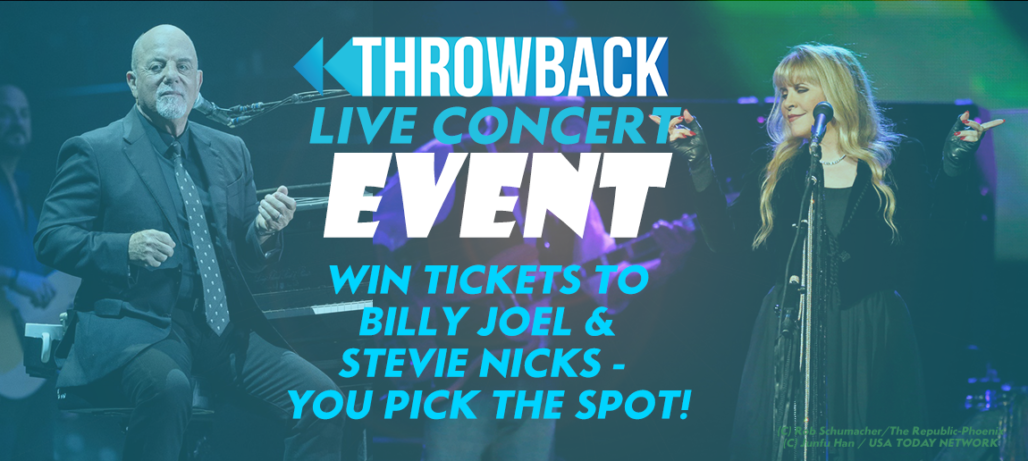 Everywhere you look, there's another great concert coming for the summer of 2023. And rather than get you to see just ONE of the iconic acts on the road, let's do TWO!
Just LISTEN to Throwback Nation Radio around 7 PM each night for our featured song from BILLY JOEL or STEVIE NICKS. Enter it below, and you'll be in the running to win a pair of tickets to one of Billy Joel & Stevie Nicks' remaining dates this summer, fall, or in early 2024! See official dates below in the contest material terms. Note: this does not include airfare, but is a great chance to see them right in YOUR part of the Throwback Nation, or on the perfect summer road trip. This is nearly a $600 prize – all on us – just for throwin' it back each night!
ENTER HERE. This contest runs Monday, May 8th, 2023 through Thursday, May 25th, 2023.
Contest Rules
Throwback Live Contest/Throwback Nation Radio: Billy Joel/Stevie Nicks – Contest Material Terms
No purchase necessary to enter or win. Only legal U.S. residents of the United States who are 18 years
of age or older are eligible to enter and win. Starting Monday, May 8, 2023, through Thursday, May 25,
2023, (known as the "contesting period"), the host on the air will announce "The Billy Joel or Stevie
Nicks Song of the Night" at the beginning of the show. Listeners will be invited to enter that song at
www.throwbacknationradio.com. All entries responses for a particular Contest Play must be received
no later than 4:59am the following day. All correct answers (as determined in the Contest
Administrator's sole discretion) from each Contest Play during the contesting period will be placed into a
random drawing to win two (2) tickets to the date of their choice on The Billy Joel/Stevie Nicks 2023-24
tour, valued at $599.00. The grand prize does not include transportation, airfare, or lodging
accommodations. It is the sole responsibility of the contest winner to furnish transportation, airfare,
or lodging accommodations should they choose to pick tickets to a concert in an area outside of their
immediate home. Available concert dates for the grand prize winner to choose from include June 16,
2023 at Lincoln Financial Field in Philadelphia, PA; August 5, 2023 at Ohio Stadium in Columbus, OH;
August 19, 2023 at Geha Field at Arrowhead in Kansas City, MO; September 23, 2023 at Gillette Stadium
in Foxborough, MA; October 7, 2023 at M&T Bank Stadium in Baltimore, MD; November 10, 2023 at U.S.
Bank Stadium in Minneapolis, MN; December 8, 2023 at Chase Field in Phoenix, AZ; or March 9, 2024 at
AT&T Stadium in Arlington, TX. Grand prize winner will be notified on or around Tuesday, May 30, 2023
via email and/or phone. Grand prize winner will have until Monday, June 5, 2023 at 5:00pm Eastern
Time to select the destination of their tickets or will forfeit the prize. Throwback may, but does not
necessarily assume responsibility, of making tickets for additional concert dates (should Billy Joel and
Stevie Nicks announce additional concert dates during the contesting period or the two weeks
thereafter) available as a grand prize option. Odds of winning depend upon how many entries
received. Entrants may receive a confirmation email from Throwback with confirmation of Contest
entry, but Entrants will receive no "extra" offers, information, or message content. Employees,
contractors, and consultants of affiliate stations, Lorino Communications LLC, and Live Nation
Entertainment are not eligible to win. Otherwise, the station's general contest rules apply. Lorino
Communications, LLC is the Contest Administrator of the Contest. See general contest rules for all
Lorino Communications, LLC / Throwback Brands contests at www.throwbacknationradio.com.